Registration
Link to registration to come soon
Charter Boats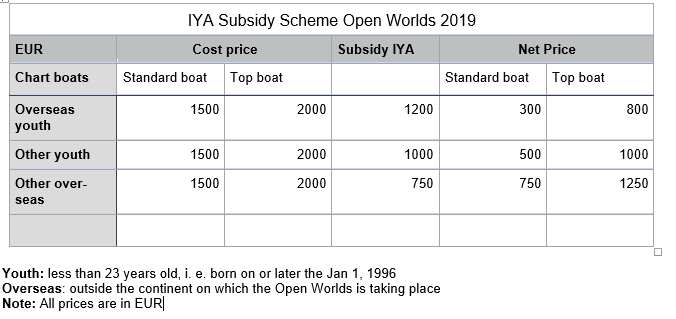 Top Boat = We have 10 "top boats" for charter  that have been dry sailed and very well maintained since they were built by DeWolf boats (John Ingalls).
Standard Boat = We have 5-10 "standard boats" for charter that are competitive for competition from a variety of boat builders and vintages.
If you are interested in chartering a boat, please contact sally.jacquemin@gmail.com.
Boat Shipping Program
1. IYA shall subsidize shipping of boats for crews outside North America
- boats with youth crews shall be subsidized with € 2'100
- boats with other crews shall be subsidized with € 1'500
2. All crew members should be member of their NYA; NYAs may specify additional requirements
3. Details on shipping from Europe (current status, will be updated regularly)
- current freight rate is € 7'500 per 40' container (for 2 boats) from Europe to Sheboygan and back
- port of dispatch is a northern European harbor as Hamburg or Rotterdam; other dispatch locations might be possible at additional cost
- shipment of boats from Europe by mid of June
- boats will be back in Europe by end of August
4. Boats from Australia obtain same shipping subsidies as European boats, but need to organize transportation by themselves.
5. Contact for shipping: Ralf Teichmann (ralf.teichmann[at]dr-clauder.com)
Getting Here
Major Airports:
Chicago O'hare (ORD)- Two hour drive
Chicago Midway (MDW) - Two hour drive
Milwaukee General Mitchell (MKE) - One hour drive
Housing
Hotel Reservations: A number of area hotels are available.  Please visit the following website to see your options:  Hotel Recommendations
A block of rooms have been reserved at the GrandStay Residential Suites in Sheboygan.   Call to reserve your room at (920) 208-8000.
Reservation under "SEAS - Sailing"
1 bedroom + pull-out couch + kitchenette is $115.00  per night
2 bedroom + pull-out couch + kitchenette is $165.00  per night
Camping: Due to local ordinances, camping is not allowed within the city limits, including at the Sheboygan Yacht Club and surrounding municipal parking lot areas.  The closest camping is 15 miles south of town at the Kohler Andrae State Park, which is a beautiful park with sand dunes.  If you have an RV or want to camp, make reservations here.
Airbnb and VRBO also have listings close to the sailing center.